Updated 4.5.20.
3 minute read.
What is a featured snippet?
A featured snippet in Google's Search Engine Results Page (SERPs) is usually found below the Google ads and above the first organic search result.
Also sometimes referred to as 'position zero'.
A featured snippet search result will display more information than a standard result and usually displays an image too.
It can often provide all the information to a searcher without them having to click to visit the website.
But statistically featured snippets are clicked more often than traditional search results (or adverts) as they typically look more 'legitimate'.
A study carried out by Hubspot, found that featured snippets produced a higher amount of click-through rate (CTR), up to 114%.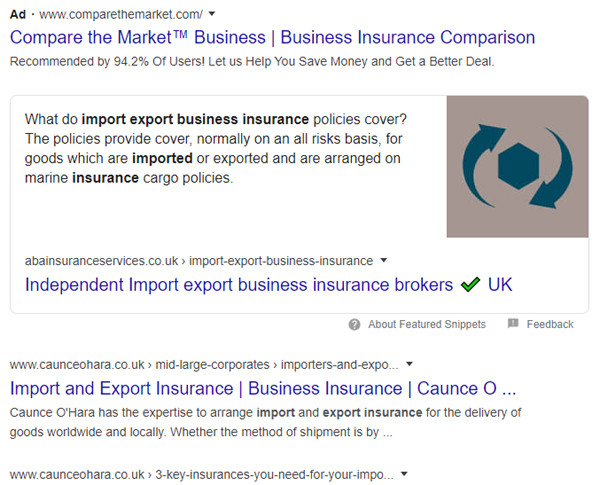 A featured snippet example for the search term import export business insurance.
Google has also displayed an image from the website.
You can see the paid advert above it and then this result in position zero.
The next listing which is the 1st position is below it.
How to find featured snippet opportunities
This isn't as hard as you might think and often easier than achieving first position.
Google loves answering questions and that is what most of us use it for.
When writing the text for your website or creating blog posts you should have answering questions in mind.
If you have a Frequently Asked Questions (FAQs) page or are regularly being asked questions by your customers, then consider turning each question (or a series of similar questions) into blog posts or updating the relevant pages on your site.
This will give you more chance of appearing in Google Featured Snippets, provide your customers with the information they are seeking and encourage voice search enquiries from Alexa, Siri or Google Assistant.
Bullet points or numbered lists as answers will increase your chances of featuring.
How do you find the questions to answer?
Once you have your list of frequently asked questions document created.
Type or cut and paste these questions into Google.
Firstly, in the search bar above you should see other similar suggestions.
Use the Incognito browser in Google Chrome or else you may be shown results based on your previous search behaviour.
Here is an example of other phrases appearing in the search bar
Collect these phrases too and again search for them in Google.
If you type a question into Google, you will see halfway down the results page a section titled People also ask…
This will have more question suggestions and at the bottom of the page.
You should also see a section which is called Searches related to…
Here will be a list of similar phrases to use as well.
Collect these phrases too and repeat the process until you have a substantial list.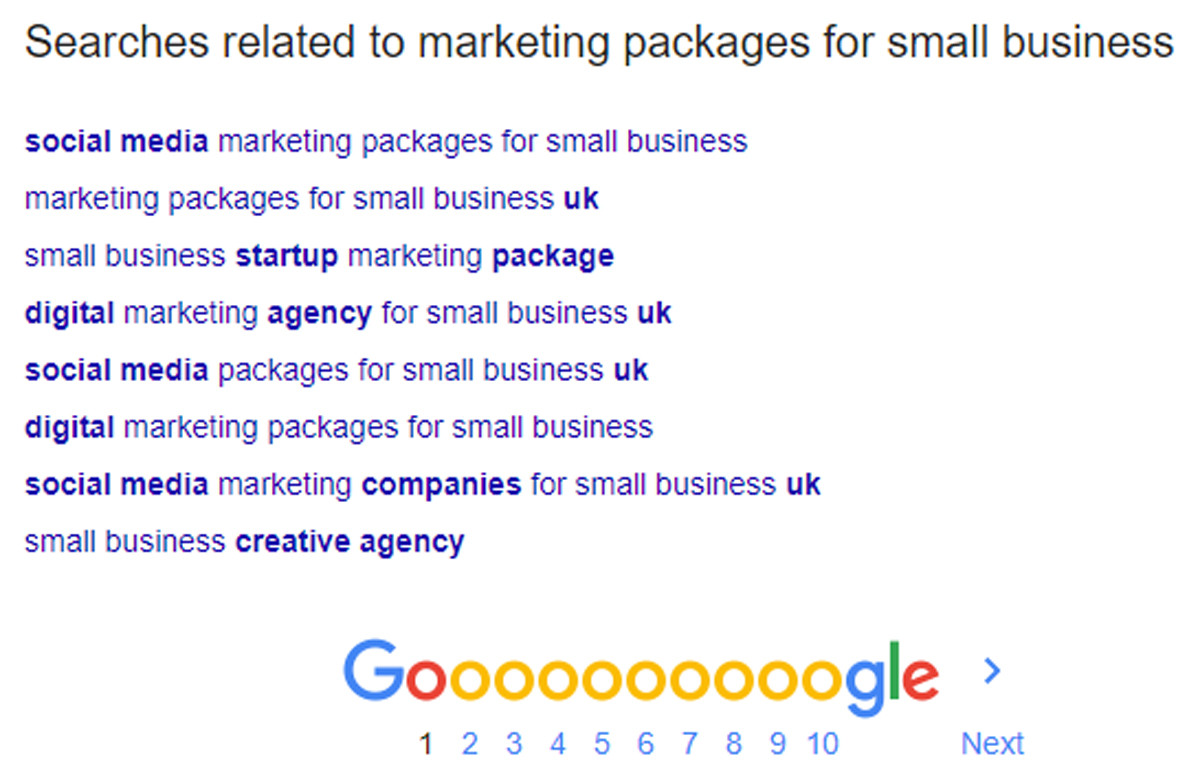 Here is an example of searches related to
Then group the phrases that are similar and use questions and answers within your copy.
Don't forget to use numbered or bullet point lists to answer the questions as this will increase the chances of you being featured.
The next key thing is to monitor which phrases are bringing you the most clicks or even better which phrases convert into enquiries.
This bit is more technical and requires your website to have Google Analytics and Google Search Console installed.
Having the above installed will also show you how your website visitors navigate your website.
To monitor where you rank for featured snippets you will need to use website monitoring software.
I favour SE Ranking but there are free versions available like Ubersuggest.
In summary
Find the questions your customers are asking
Check your rankings and monitor your click throughs
Answer these questions with bullet point or numbered lists